Hip osteoarthritis is a common pathology, which causes great pain and disability. Medical treatment is based on analgesics and anti-inflammatory drugs, including natural painkillers. However, in addition to the complications associated with their prolonged administration, they are less effective as the disease progresses. Treatment alternatives include: resection, debridement, thermal chondroplasty and/or microfracture with or without biological coadjuvants (Hyaluronic Acid, Platelet Rich Plasma (PRP) and Mesenchymal Stem Cells (MSC).
Surgical treatment involves prosthetic joint replacement. It is only indicated for very advanced osteoarthritis or osteoarthritis that does not improve with conservative treatment.
FEMOROACETABULAR IMPINGEMENT
Hip pain in adults has traditionally been linked to osteoarthritis. However, we see many young patients with hip pain without osteoarthritis in our clinics. Lately, an abnormal contact between the acetabulum and the femoral head-neck junction, known as femoroacetabular impingement syndrome, has been recognised as a relatively common pre-arthritic cause of these symptoms. Femoroacetabular impingement is one of the principal causes of young adult hip pain as well as osteoarthritis. Hip arthroscopy is playing an important role in the treatment of this problem.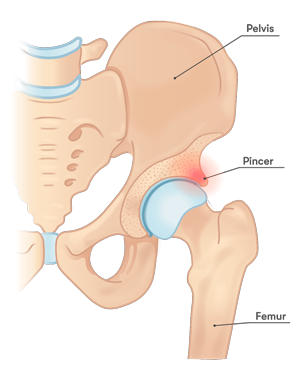 Troncanteritis or trochanteric bursitis is the inflammation of the bursae around the greater trochanter of the femur. It is one of the most common causes of hip pain (on the lateral side). It is important to establish a differential diagnosis, as it groups together a series of pathologies that need to be clearly diagnosed in order to adapt and carry out an individualised treatment. Conservative measures such as physiotherapy, strengthening exercises, insoles or infiltrations are usually very effective for treating this pathology.
TELL US ABOUT
YOUR CASE
If you are suffering from a traumatic injury,
you can tell me about your case here and
I will try to answer you as soon as possible.