INSTABILITY-RECURRENT
SHOULDER DISLOCATED
The shoulder joint is the most mobile joint in our body and the most frequently dislocated joint, representing 45-50% of all dislocations. 95% of glenohumeral dislocations are anterior and most of them appear in patients under 30 years old.
A patient under 20 years old with a shoulder dislocation has a 90% chance of it happening again within the next year. Isolated cases can be treated conservatively with physiotherapy and strengthening exercises.
If the dislocation occurs several times, arthroscopic repair is the preferred treatment.
Rotator cuff tendon pathology is one of the most common pathologies of the musculoskeletal system. It increases with age; after 65 years old, shoulder pain is considered the most common musculotendinous pathology. Of all the causes of shoulder pain, rotator cuff pathology is by far the most frequent, especially the damage to the supraspinatus tendon.
Treatment can be varied: conservative measures such as physiotherapy, infiltration with platelet-rich plasma (PRP) in inflammatory processes or minimal tendon ruptures or even arthroscopic surgery in larger ruptures or injuries that have not improved with conservative treatment.
Adhesive capsulitis is the progressive loss of passive mobility of the shoulder. It involves diffuse pain in the anterolateral region of the shoulder. Adhesive capsulitis (also called "frozen shoulder") is a condition of unknown aetiology characterised by a progressive loss of passive mobility and severe limitation of shoulder range of motion without known intrinsic pathology.
– It affects 2%-5% of the population.
– It is more common in women than in men.
– It appears especially between 40 and 60 years old.
Exercises and physiotherapy are beneficial and constitute the basis of treatment.
If conservative treatment is not successful, there are effective alternatives such as hydraulic distension of the joint capsule or arthroscopic anterior capsulotomy.
Osteoarthritis is a degenerative pathology that causes deterioration of the cartilage in the joints. As the cartilage disappears, the bones become worn and deformed, causing pain. Shoulder osteoarthritis affects the acromioclavicular and glenohumeral joints. It affects mainly older people, but can also occur in young people who practice intense activities or sports. It causes severe pain in the shoulder with reduced mobility. Depending on the stage of development, the therapeutic alternative may range from biological treatment to joint replacement with a prosthesis (arthroplasty).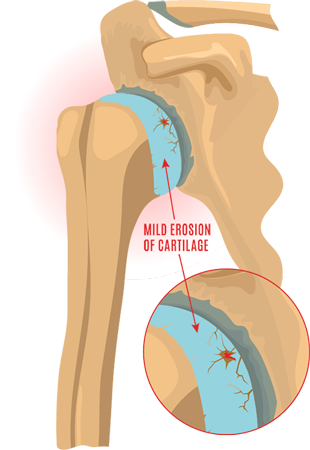 TELL US ABOUT
YOUR CASE
If you are suffering from a traumatic injury,
you can tell me about your case here and
I will try to answer you as soon as possible.